Here's some pics from a recent wedding we did with Michael & Anna Costa Photography at the Bacara. Enjoy!
It's all about the skin! Prim had such beautiful skin I wanted to be sure her look was very fresh and clean looking. Her photographer was Jose Villa and being that he shoots film, I wanted Prim to look natural with touches of color on the lips, cheek and eyes. The ole' myth "You have to wear more makeup for photos" is so 80's! With a talented photographer who has mastered his lighting, how you look in person is how you will look in your photos. I used a creme blush in a light pink for a natural glow on her cheeks and I used a muted apricot stain on her lips for just enough color to bring out her natural pigment. With Prim's hair she asked for a loose curl, I gave her just that and went throughout her hair with a smaller curls for a bouncy textured look. Overall Prim was a beautiful bride who screams natural beauty.
Planner: Jill La Fleur
Photographer: Jose Villa
Video: Joel Serrato
Location: Bacara Resort

We had the best time doing hair and makeup for Casandra Estevez, Charlie Sheen's oldest daughter, and her bridal party last weekend at the Bacara Resort and Spa!Check out the People Magazine post below to read more!
Photos by Elizabeth Messina
Cassandra Estevez and Casey Huffman
Charlie Sheen Has A New Role: Father Of The Bride. The Two and a Half Men star beamed and snapped photos as his daughter, Cassandra Estevez, exchanged vows with childhood sweetheart Casey Huffman at Santa Barbara's Bacara Resort and Spa on Sept. 25. "He was clearly very proud of her," says wedding planner Jill La Fleur of La Fleur Weddings & Events, who created the lavish day inspired by a mix of nature and old Hollywood glamour. "He had a big smile on his face." The bride, 25, who met Huffman in junior high, walked down the aisle with her dad to the tune of "Flightless Bird" from the Twilightsoundtrack, carrying a bouquet of roses and calla lilies. The couple said their non-denominational vows under a four-post altar made of birch branches and decorated with white organza, florals and crystals.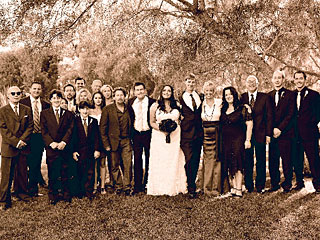 photos by Elizabeth Messina
Family photo, including Charlie Sheen and Emilio Estevez
After the ceremony, the 165 guests, including Martin Sheen and Emilio Estevez, gathered for a reception in the hotel's Rotunda Room. The decor included butterflies hanging from the ceiling, mercury glass votives and deep red roses for centerpieces. The newlyweds performed their first dance to Al Green's "Let's Stay Together."
During the five-course meal, which included filet and shrimp, Sheen toasted his daughter and new son-in-law. "He told her how happy he was for her," says La Fleur, "and then he teased the groom and made everyone laugh."
—————-
Here's a few more pics from Cassandra's Wedding from Elizabeth Messina's blog Kiss The Groom
the entire celebration was beautifully designed by jill la fleur….it was a truly lovely day….cassandra is the eldest daughter of charlie sheen….he was so sweet & doting, he even kneeled down during the ceremony to film the lovely couple saying their vows….the entire day was full of love & tenderness.
there is nothing quite like marrying the love of your life…xoxo