At face value, this wedding is wildly gorgeous. Bright colors and detailed traditions are literally dancing across the images by Lacie Hansen. But once you dig a little deeper into this blend of cultures, it holds even more beauty. Beauty that is laced throughout the groom's poetic description of a chance meeting that resulted in the ultimate happy day and in the true emotion behind all those pretty details crafted by Flowerwild and planned by La Fleur Weddings & Events. Be sure to stop by the gallery for even more and check out the new issue of Magnolia Rouge that is also debuting this sparkling Ojai beauty.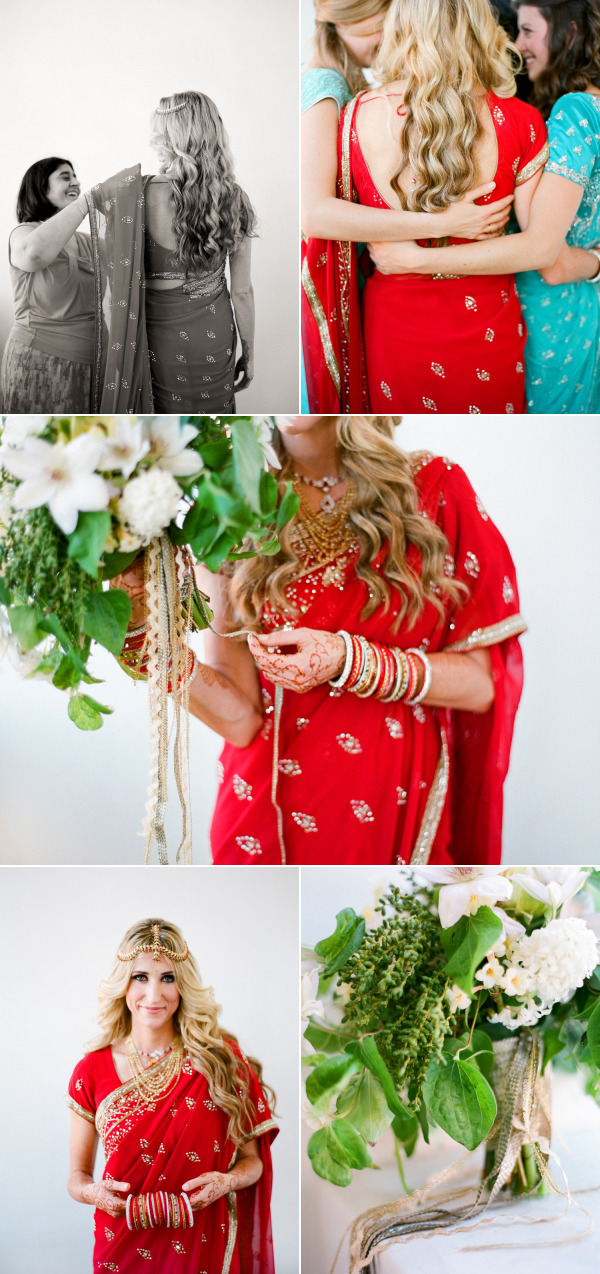 Gorgeous, no? And it's about to get even more so with the film behind the day captured by Love Spun Films. Have a look…
From the Groom…The yoga class we religiously attend describes itself to be a style of class that, "offers nothing…if we are lucky." And this is exactly how we met, within a whole lot of nothing. I came to class early one Thursday evening and Nicole did too. There was only one mat in the back of the class when Nicole came in, mine. She quietly set her mat down beside me and our relationship began. I guess somewhere in the silence and breath we found a connection to each other. Even before uttering a single word between us, we felt it immensely. We always reminisce about that time and about how glad we are that we met there, in that way. Yoga, for us, is a place where a person really gets to be who they are, without a façade, authentically themselves. You get to be someone who is working on strengthening not only the outside body but the inside as well, happy to live in the present. We both recall that particular yoga class being challenging but exceptionally robust and energizing. After class, as the crowd poured out of the studio, we both—uncharacteristically, sat and waited. I broke the silence by asking her how old she was when she realized that she lived a blessed life….I think we both immediately fell in love. We had our first date the next day on Friday February 5, 2010, said we Loved each other on Saturday, February 6 and on Sunday began to plan our marriage and our family. And that was it, no struggle, no fight, no second guessing. Just us.
Seeing your wife for the first time at your own wedding is a surreal moment. And I remember that moment clearly. I was sitting under the mandap with my parents and Nicole was to be walked by her parents under the branches or our tree and through the audience. As she appeared and came into my view it was just like really seeing something with naked eyes, something for the first time and it is etched into my memory.
The whole day, as the tumult was swirling around us, I had made a mental decision to stay present and be within all the big moments that make up our wedding. And this moment was the one I was practicing for all day…in fact, probably, all my life.
As she stepped into the light where I could see her, he eyes were shining, her red sari was blazing around her like fire, and as corny as it may sound, she was literally that vision you see from far away and squint your eyes hard to make sure it is really real.
As she started to walk towards me, a soft breeze began to blow, and as if on cue, the 300-year-old oak tree sent its leaves to bless her movements. They fell slowly in circles from the sky and faintly the smell of flowers and earth filled my lungs. The only time I even took my eyes off my wife was to look up at the sky, the clouds bright in the light blue sky, and a flash of the mountains that circled our ceremony. When they finally rejoined my wife's she was happy and that memory was pressed into me forever.
My uncle told me once, that as you grow old, it isn't the big houses or the fancy cars you drove in your youth that make you really happy. He said it's the memories you made in your life in the crucial times that matter. The feelings the strong ones bring you are worth all the struggles and hardships you went through to get them. With this memory, I agree.
We had a beautiful traditional Brahmin Hindu ceremony to celebrate our union, and wanted to carry the Indian influences on throughout the cocktail & reception with the decor as well as the food. We are both pretty laid back in our lifestyle as well as our personal style, so we wanted to wedding to reflect that, inviting and comfortable for our guests, with unique Indian inspired details throughout the event. For our colors, we choose a lot of gold and saffron tones with pops of indigo. Our wedding fell on a beautiful, warm full moon night and our memories of dancing under the full moon with all of our closet friends will remain some of the best memories of our lives together.
Photography: Lacie Hansen | Location: Ojai Valley Inn & Spa | Creative Direction + Floral Design: Kate Holt of Flowerwild | Wedding Planner: La Fleur Weddings & Events | Cinematography: Love Spun Films | Invitation Suite + Wedding Day Paper + Production: Amber Moon of Pitbulls and Posies | Wedding Day Calligraphy + Poem Artwork: Chelsea Petaja of Oh My Deer | Invitation and Envelope Calligraphy: Kelle McCarter of DesignsGirl | Rentals: Classic Party Rentals | Wedding Decor+ Rentals: Elan Event Rentals | Linens: La Tavola | DJ: Michael Antonia of The Flash Dance | Wedding Dress: Junko Yoshiko | Shoes: Badgley Mischka | Hair + Makeup: Mar of TEAM Hair and Makeup | Lingerie: Claire Pettibone | Men's Suit: Bar III | Men's Shirt: Calvin Klein | Men's Shoes: Bruno Magli